Decontamination protocol adapted to hospital rooms
For a desired decontamination rate, the exposure time must be adjusted to the size of the rooms. Phoxene has developed a protocol for hospital room decontamination, here is an example of treatment. In a single bedroom and its bathroom, the DLP 360 must be positioned in 2 places. This single room and its bathroom will […]
For a desired decontamination rate, the exposure time must be adjusted to the size of the rooms.
Phoxene has developed a protocol for hospital room decontamination, here is an example of treatment.
In a single bedroom and its bathroom, the DLP 360 must be positioned in 2 places.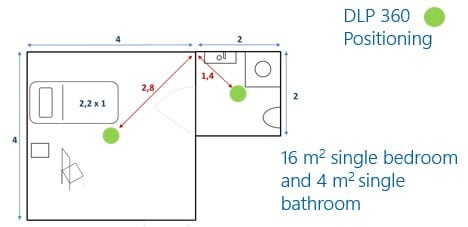 This single room and its bathroom will be decontaminated:
to 99,9% on Staphylococcus aureus
in 10 minutes in the bedroom
in 2 minutes in the bathroom
The decontamination cost per room is 1.7€, based on equipment manufactured by Phoxene, including services and maintenance.
Do you have a project ?
Do you want to start thinking about the use of Pulsed Light decontamination ?